Are you passionate about speaking in front of large groups of people? Do you have a life-changing story to share that can resonate with others? Becoming a public speaker can give you the platform and opportunity to be a relatable figure with valuable information that can benefit others. Even if you consider yourself shy and want to learn how to get comfortable with amplifying your voice, public speaking is a great way to step outside of your comfort zone and take the leap of faith.
But how do you start a career in public speaking? What steps can you take to ensure your success?
With the right strategy in place, you can learn how to successfully use your words to inspire others. Here are some tips and tricks on how to become a professional speaker:
Step 1: Define Your Niche and Target Audience
In the U.S. alone, it's estimated that there are over 40,000 public speakers. With so many other people wanting to share their stories and expertise, it's important that you define a solid niche and target audience before you get lost in the weeds. Think about how you want to share information and who's going to gravitate toward it the most so you can hit the ground running. 
If you're having trouble defining your niche and target market, ask yourself the following questions:
How important is the story I want to share?
Is my perspective unique?
What sets me apart from other public speakers?
How can I highlight my passion in an actionable way for others?
Step 2: Build Your Brand and Messaging
Once you have an idea of who you want to work with moving forward, you can start building your brand. This is essential at the forefront of your new public speaking business endeavors – people pay attention to everything from the color and font of your advertising to the clothing you wear on your back. By defining your brand, you give people a first-hand look at your personality and help them get an idea of your overall message, tone, and style.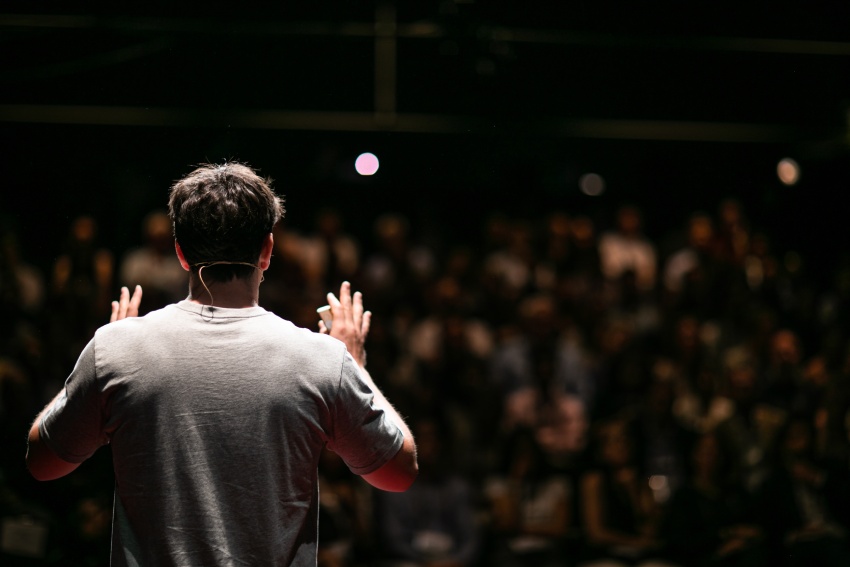 Step 3: Get on Social Media and Work Your Magic
Social media has become one of the most prominent advertising tools for business owners, and it's no different for up-and-coming public speakers. By creating and maintaining a social media presence, you can put your brand on display and help your followers get to know you in action before booking you for an event.
Apps like Instagram and Facebook make it very easy to use your voice and put yourself out there – with live video features, you can record yourself talking about a topic of interest and post it on your pages for followers to see.
Step 4: Brush Up on Your Skills
Public speaking can be nerve-wracking no matter how confident you feel. Before you can learn how to get into public speaking and make money while doing it, you have to brush on those essential skills that can help you turn heads at even the largest events. Here are some of the skills you need to perfect to encourage more success in public speaking:
Passion
Confidence
Organization
Focus
Communication
Storytelling
Step 5: Learn from the Best and Get Certified
Whether you want to speak in front of a small live audience or take your skills to a virtual event, there are so many inspirational public speaking professionals that can help you find your way. At eSpeakers, we have a database of over 19,000 different speakers, trainers, entertainers, coaches, authors, and consultants who speak at live events on a regular basis. You can browse through our speakers, get to know them, and even attend one of their upcoming events!
Once you feel comfortable and confident in your ability to keep a room entertained, consider becoming a Certified Virtual Presenter. With this certification, you gain the knowledge, skills, and credibility to become an online speaker in today's digital landscape.
Then, once you're certified, you can become an official eSpeakers member and advertise your expertise to the world. Reach out to us today for more information.